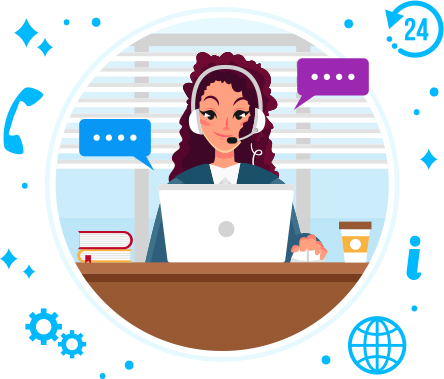 The pace at which cloud markets are growing globally, cloud based call center software are an ultimate tool for customer service.
To retain customers in today's environment of cut throat competition; to give them reasons to stay with us, there are many factors we can't afford to underestimate. First is the personnel managing interaction (help Desk/Reception) & second your Cloud Call Center Software. Both ought to be well oiled to drive home better CX, improve productivity, cut down on internal resources (expenses) among others.
Inbound & Outbound Cloud Call Center ;
Cloud call centers can be inbound or outbound. Inbound cloud call centers receive and answer calls. Handling customer complaint, scheduling doctor and other appointments are duties of an inbound cloud call center team. Outbound cloud call center agents make calls. Sales call, lead generation, market research, telemarketing are some of the duties and roles of an outbound call center representative. 
Cloud contact centers offer greater scalability, improved efficiency, and lower costs to companies. They are an ideal choice for businesses looking to optimize customer service practices with maximum efficiency. 
Easy to Install; Offer Greater Flexibility
Cloud call center software is a hosted & easy to install solution. It comes with processing facility which helps organizations to hire representatives, agents, or employees from different parts of the world. It then provides an interface where employees of one company hosted in different locations work as a team with optimum efficiency.
Easy to Install; Offer Greater Flexibility
People working on cloud call centers have reported improved efficiency. Cloud contact center is an intuitive interface, supported by AI. Cloud call centers are equipped to handle customer data across various channels and can resolve tickets on time.
Cloud call center has features like ACD, IVR, prioritized callbacks etc. It saves everyone's time. Precise routing enables callers to get through to the most qualified agent to ensure the issue is resolved quickly.
IVR is a speech recognition technology integrated into cloud call center software which directs the caller to the relevant department. It is used in inbound as well as outbound cloud call centers. ACD is Automatic Call Distribution. It routes the caller to their desired destination. It ensures customer's call reaches the help desk that can quickly and efficiently resolve the issue for them. 
Scalable Software – Can be expanded based on usage
Cloud call center software size can be stretched or reduced based on usage. Meaning, the software offers unrestricted scalability. A growing company that suddenly receives spike in calls or enquiries; or receives high traffic on particular days can employ additional staff and the same cloud call center software can be scaled to meet the increased usage.
High Speed Video Calls Create Better Connect
Unified Communication platforms facilitate high-speed video conferencing & chats which create an instant human connect and take the experience of doing business at a different level. It minimizes the need (and hence the cost) of business travel. Employee collaboration becomes far simpler and more effective.
Organizations can upscale or downscale usage with a click
Unified communication facilitates a growing business scope to upscale instantly with a click of a button. Likewise, if one of the branches of the office is shutting down, you can reduce usage instantly without having to unplug or dismantle infrastructure etc. Unified communication also enables you to carry office with you on your personal mobile wherever you go without having to carry office laptop. All you have to do is download the app on your mobile and you are sorted.
The evolving communication trends have changed the face of the business. As IT continues to evolve, it will come up with better ways of doing businesses. Unified Communications solutions will continue to reign supreme and drive digital transformation. Unified communication creates higher operational efficiency for businesses, improves user experience and businesses scale with ease in UC environment.
Cloud Call Centers better equipped to handle natural disasters
Cloud solutions offer stronger disaster recovery functions vis-à-vis standard equipment and standard office infrastructure. When natural calamities occur, business workflow is impacted. However, organizations using cloud call centers ensure there is no disruption in operations. Executives can remain in touch with customers through mobile devices when connectivity is disrupted.
Qualities to look for in an inbound or outbound cloud call center executives
These are generally and mostly entry level positions and call center executives can take up part time or full time remote jobs. You ought to be a quick thinker, patient, and someone who possesses natural flair for communication and can quickly put the person at the other end at ease. This is a demanding role and other qualities more to do with the profession may include knowledge and experience.
Efficient Executive + Superior Cloud Call Center Software = Top Class Outcome
When an efficient call center executive gets to work on a superior cloud base call center it empowers him/her to deliver an excellent job. The combination drives home better productivity and performance. A good routing system that is part of good loud call center software ensures the call reaches the desk of an agent who is a pro at solving such issues or addressing queries of similar nature.
A good cloud contact center keeps up schedules and reduces downtime. If offers a real-time insight and KPIs which helps to improve sales as well as service. The biggest advantage of it is that it allows employees to work from home. The tools available in cloud center software facilitate interoffice unified communication with ease. Plus, it can be integrated with several business tools.
Cloud contact center offers benefits to customers as well as businesses. Employing trained agents on cloud contact center leads to super customer experience. Issues handled efficiently by call center executives earn the organization appreciation and positive reviews from clients. Workers also feel empowered when they work in amicable environment and are able to resolve client issues. With features like efficiency, security, and scalability call centers are at the top of their game.