Contact Center Banking
Integrate your data to our all-in-one platform, and you put a complete customer snapshot at the fingertips of every employee. That way, your customers are always in focus and your bank makes good things happen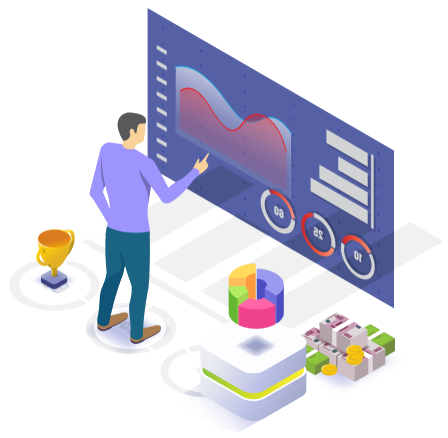 Present a full view of every Customer And Enterprise-wide
Customer service is the key to banking success, and solutions to improve your contact center are a good start, but building a customer's loyalty requires more. It requires a consistently reliable and superior service experience at every contact point across your enterprise and that requires a solution to bring your contact center, branch locations, offices, employees, and remote workers in your entire enterprise together to deliver the service your customers expect.
With the Omni-Channel Solution from KruptoConnect, customers move through media channels and enterprise touchpoints seamlessly, and quickly. That makes your whole organization more responsive, so you can make the service experience more rewarding.
Keep customers loyal with outstanding service
When customers must routinely help you help them, you open the door for your competition. Impress your customers instead. Use our omnichannel platform to route calls more precisely, handle web chats faster, match a customer's needs with an agent's skills, instantly access account records and offer new services at each opportunity. When you welcome your customers in every way and personalize their experience at every touch point, you give the other banks no chance.
Monitor. Measure. Refine. Repeat. From initial contact to a resolution to follow-up, our platform's real-time monitoring, automated surveys, and historical reporting make continuous improvement seamless. Gauge how customers use your media channels and services, and how you respond. Invite their feedback. Make the right decisions for staffing levels, as well as for product campaigns and cultivating high-value customers. Improving your bank's sales and service effectiveness, after all, is ongoing. Monitor. Measure. Refine. Repeat.
Opportunity is about timing and awareness. Whether a customer is in your branch, on the phone, or visiting your website, employees need to be ready to sell. Our platform drives information to your front-line ambassadors to tell them who the customer is, what services they're using, additional services to offer — and the value of that customer to your bank. While employees respond to new opportunities more readily, you track the sales success of each employee, to measure their value.
The secret to building your customer count isn't just reaching out to a desired new audience. It's what you do when prospects reach back. Our platform energizes your outreach and coordinates your response. Deliver a consistent message from the contact center and every branch office. View and update a new customer's profile so employees can offer the right product at the right time, from any location. And provide services via the phone, Chat, email, and the web, to make life a little easier.
Protect customer data with security from end-to-end
A security breach can be your bank's worst nightmare. Our all-in-one platform allows you to establish security centrally and automatically, with every endpoint conforming to the settings your bank uses to secure connections to phone lines, email servers, web servers, and business systems. Along with total control over access rights, multiple levels of live monitoring and voice and screen recordings encryption add to your peace of mind.