Outbound Call Center Software
Reaching customers – simple, compliant and profitable
Unified Solution that equips the enterprise to drive automated outbound, high-touch, multichannel campaigns via voice, email, or SMS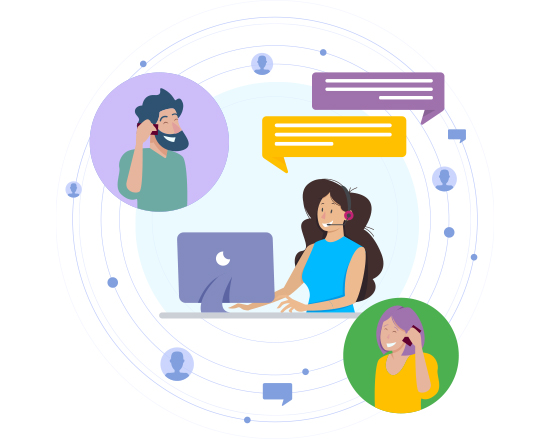 Voice Dialer Pacing Options
Manual Dialing
Apart from saving time and having high chances of converting visitors into potential clients, Directories and Click-to-Dial functions offer many other benefits.
Preview Dialing
This outbound call function, select a customer record from the list and propose it to the agent for review. Agents can go through the customer record and decide to call or move to the next proposed customer on the list.
Progressive Dialing
Based on the predefined amount of time from Lead Popup to dialing
Voice Dialer Pacing Options
This feature, identifies the number to be dialed from the CRM system and also sets its calling frequency. You can also decide how often the valuable customer data is to be input into the system.
Allows agents to populate records to an inbound campaign exclusion list which then filters the record out of the outbound campaign list.
Manually import or schedule the import of call lists and can then apply various filters to customize control of the execution of outbound call campaigns.
Select the automated multichannel escalation strategies deployed for critical notifications. Automated retry rules can be built for cross-media.
Leverage campaign management strategies to segment according to business rules, customer needs analysis, and customer data, before being prioritized.
Agents can seamlessly work inbound and outbound voice, IM, chat, email, SMS and workflow services concurrently, all within one system
MULTIPLE OUTBOUND SERVICES SUPPORT
Agents can belong to multiple outbound services at the same time, so the campaign configuration will determine which outbound service the agent will start.
DYNAMIC SCHEDULING OF OUTBOUND SERVICES
Set calls automatically adhere to a schedule, fields can be set to allow calls already in the outbound queue and rerouted active calls to active service.
Outbound campaign agents can schedule customers for callbacks to themselves or any available agent in a working pool
Boost Agent Productivity and Your Revenue