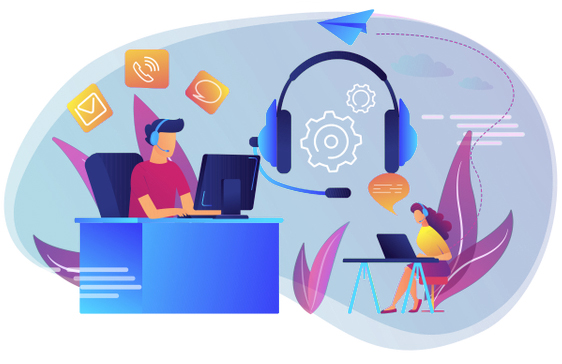 If you are planning to shift to the cloud call center from a traditional set up, the features discussed in this blog post should be able to help you to take a better and a more informed decision. Remember, choosing an inappropriate cloud call center software can decline productivity of your team mainly by ruining customer experience.
When businesses arrive at a stage where they have to choose cloud phone software, there are plenty of different options available. Some hold good for outbound call centers, some are more appropriate for the inbound call centers. Each cloud center solution comes with different functions.
Your Cloud Call Center Software Provider Should Offer Multiple Choices
When you decide to go with a certain cloud call center software solution provider, make sure the software offers ACD, i.e. Automatic Call Distribution. This feature helps to improve productivity of the cloud call centers. A good service provider is likely to offer you several Advanced Call Distribution Center Strategies to choose from, based on your business need viz. skill-based routing, uniform routing, simultaneous routing etc.
 Interactive Voice Response (IVR)
IVRs is a feature that helps businesses to deliver a consistent and efficient experience for the customers by ensuring the system is programed by prerecorded messages that allow the incoming caller to navigate through the menu and reach to the right customer service department or the right call center agent in order to raise an issue or to get an answer to the query.
IVR also offers support to the customers by helping them resolve their issues without having to speak to a person. The software is designed to offer an explanation and self-service support, which helps the customers to resolve the problem on their own. The IVR system sends them to the right department based on their responses.
 IVR vs. Auto Attendant
Not all businesses need an IVR system. For many businesses an Auto Attendant, which is a simplified version of IVR, can also suffice. If all that your business needs is to direct customer to the right department, Auto Attendant is sufficient.
Call Recording Feature
Call recording has become a popular and sought after feature and practice in modern business set-ups. This is why the call center software you opt for should also be able to record phone calls. These real time recordings are not only going to be useful for training your new teams as they get ready to join, but they can also help you increase your team's productivity and take the customer satisfaction and experience several notches higher.
Computer Telephony Integration (CTI)
CTI helps to add pace to business by helping you work effectively and efficiently. Good cloud phone software comes with a CTI system with which functions of your phone get connected with your computer. A CTI can instantly transform your computer into a virtual call center. All it takes is a few seconds to integrate to incorporate the phone into your work processes.
Desktop Notification
A cloud phone software is supposed to ensure that you don't miss any calls that are important for your business. Desktop Notification feature make sure that you will never miss an incoming call by offering a convenience of pop-up notification on your computer or phone. Thus, you're always informed about calls that are coming your way or that were missed due to the reasons whatsoever.
CRM Integration – The Most Critical & Powerful Feature
Looking for a powerful yet simple CRM integration into your existing cloud phone system can empower your team manifold. Your cloud contact center software  is supposed to help your team to work faster, better, and with more efficiency. CRM can make this possible because it is a feature that not only helps the team within the organization to communicate with each other; it also streamlines and syncs communication that client might have engaged in at different times using different communication tools like SMS, Email, Call, via Social Media, and so on. CRM syncs all this communication and presents it before the agent or executive attending to the customer. Being well informed and updated on what client seeks, helps to offer better services and keeps the client satisfied, happy, and wanting to come back.
Cloud Call Analytics
Businesses must understand the impact of monitoring and measuring your metrics in order to optimize your operations and growth. When you get into the practice to regularly measuring and tracking your analytics, it improves team performance by incorporating data-driven changes to your workflows. When selecting cloud phone software, you should be clear about which data is going to be important that you would like to collect and track. When you make an uninformed decision to install the software that doesn't meet your needs or gives you incomplete data, it is no good. The best cloud call center solution providers provide advanced analytics monitoring for you to track everything in real-time.
Concluding Thoughts 
Achieving your goals and KPIs is absolutely possible provided your call center executives deliver great customer experience. On your part, you must ensure that the cloud phone software you install, supports your team and business model and helps your company to grow. If you choose a cloud-based call center software with features your business needs, you are prepared for future; you're equipped to deal efficiently with customers and competitors alike.