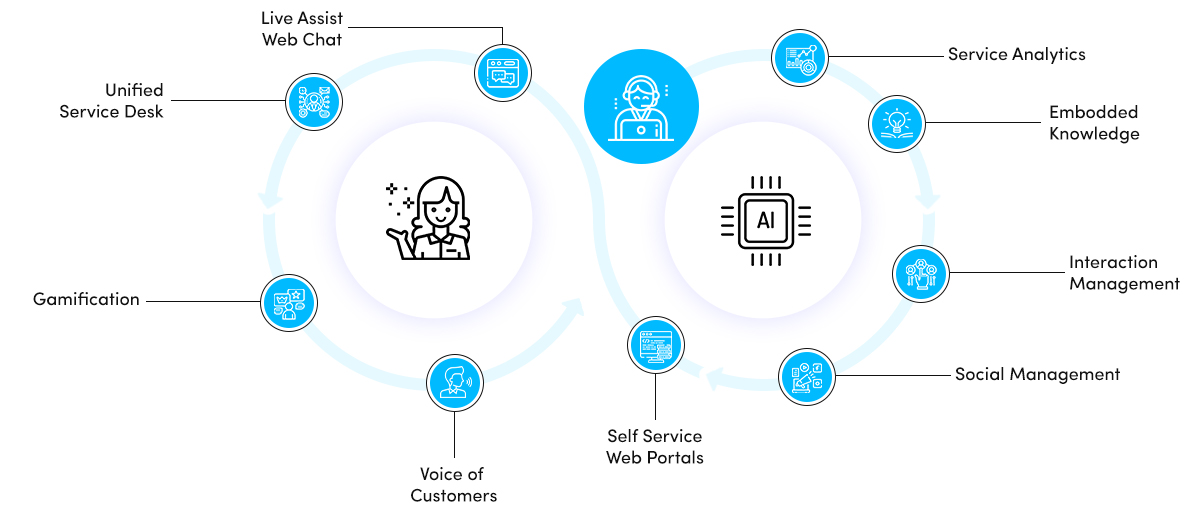 With growing emphasis laid on the customer experience, businesses need to think about stepping up and optimizing their existing IT ecosystem. In order to stay relevant as well as competitive in the modern complex business environment, they ought to think on a priority to implement or migrate to a better technology. A system of working that can maintain a seamless customer experience which will not only retain existing customers but also add new and increase the number through word of recommendation and other channels.
A System That Meets the Growing Demand of Customer Service & Customer Expectations
Technology is constantly evolving, creating more sophisticated versions of software every day. With digital and artificial intelligence (AI) picking up, traditional call centers and BPOs are also getting drawn towards the advantages of the cloud-based centers. They are trying to explore how the technology can be used for improving their business by creating better customer experience channels and creating multiple interfaces offering conveniences to the customers.
Evolving Need for Unified Communication
Demand for unified communication is continuously rising and more and more businesses are contemplating migrating to it, yet we have hundreds and thousands of them who still maintain their critical data on physical systems. They still use physical infrastructure, maintain bulky communication servers, headsets installed, configured, licensed and made compatible for their industries, and so on. All of these require physical space over other things. It impacts their strategic and budgetary decisions impacting operational costs, restricts mobility of CS Execs and more. The most critical part is the data breach, something that all businesses are very sensitive about. Security and privacy of a large customer data becomes a tedious task for call centers who operate from on a physical premise.
The Process of Migrating/ Shifting has begun
With a growing awareness as to how the technology can create an edge and advantage for businesses, on-premise call centers are getting substituted by cloud call centers. Organizations in huge numbers are chalking out plans to migrate to cloud based call center software. As the word is spreading about the kind of advantages the cloud call centers come with, they are becoming an infrastructure choice for majority of organizations.
Primary features driving organizations towards unified communication software or cloud phone is undoubtedly the speed of deployment. Other reasons include improved profitability. It is a scalable technology that can be expanded with growing customer base. It comes with a foolproof security system where all your data related to customer information as well as other information remains secure and protected.
How Unified Communication System Works
Cloud-based unified communication technology is a network-based service that the software service provider offers remotely to businesses via a subscription model. Call center software introduces your businesses to innovative solutions to help you tackle traditional pitfalls of your business.
Organizations that are adopting or shifting to unified communications are experiencing the value that no other technology other than cloud-based platforms can offer. Installing call center software brings out an obvious and rapid improvement in customer interaction, and customer satisfaction. It also helps organizations to pin point the areas within their set-up that can benefit by implementing this model. 
A good unified communication software service provider will also help you to create & integrate business specific functionalities that can help you to give your customer a smooth journey of doing business with you again.
So, if you're an organization looking to adopt a technology that can help your business grow and expand there's nothing that can serve you better than considering to install the scall center software.
No matter how good your product or services are, or how long you've been in the business, your expertise, your team; or how impressive your professional profile reads on social media, or how active you're on them; how many likes your posts receive… if you are not able to keep your customer happy, none of all these hold any value and your business may not see the success it deserves to. The most important part of any modern business is how you treat your customer, how does he feel doing business with you, how promptly do you attend and respond to his queries, how quickly and how amicably can you resolve their issues for them. These are the things which go to create an experience for your customer.
One technology that can make it possible for you to offer superior customer service is through unified communication or cloud phone. Do talk to a service provider to get all the details and install cloud call center software.