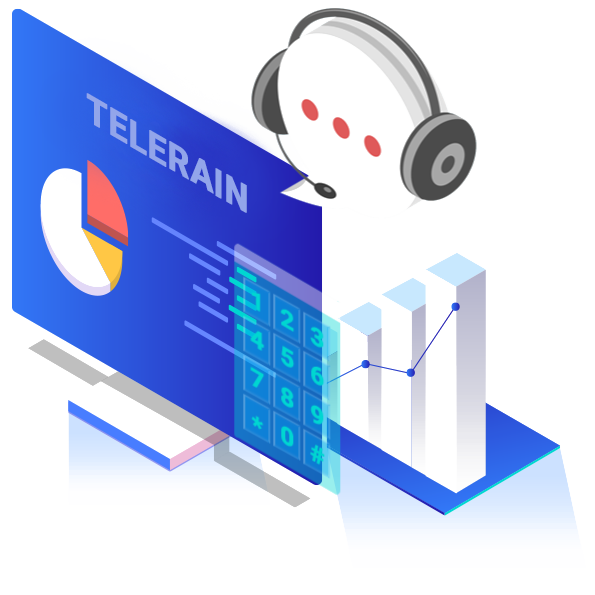 Cloud Computing Platform for Call Centers
Customer service is a defining factor in the customer experience that influences customer's action at every stage of business right from the customer's purchasing decisions to sticking to your brand, referring to their friends and family, and of course revisiting to buy again. Hence, to offer top-notch seamless customer service is not possible without setting up a system that enables your customer service representatives to engage with your client in a positive environment. This is where cloud contact center comes in picture. It is a simple, reliable technology that takes performance of your customer service team many levels higher and offers the customers with a great experience of doing business with you.
Cloud call center software or platform is an easy to use, simple to install, and a complete, unified, cloud communication system designed to support multichannel or Omni-channel communication between customers and agents. It optimizes customer experience as well as customer service staff experience.
 Call Center VS Contact Centers
Before taking the discussion further,
let us understand the difference between call center and contact center. While c
all centers and contact centers provide the same customer service and enable us to connect with our customer and vice versa; the difference lies in the kind of communication channels they use. Call centers use a single channel, a single tool, i.e. the phone to connect with the audience. Contact centers on the other hand, uses several communication channels to communicate with the customers. Call centers were the norm before digitalization. Contact centers emerged post digitalization. Digitalization revolutionized the experience of communication, infusing ease, seamlessness, and continuity like never before.
Defining Cloud Software Call Center
Cloud Contact Center is a web-based software solution or platform that enables an organization to handle its inbound and outbound communication with the clients and other associates. As it is clear from its name, this software is based on the cloud, and there's no need for a physical space to set up or install this technology. Gone are the days of traditional call centers where entire floors would be dedicated to wired machineries, complex circuits, electrical connections, hardware, and so on; and a set of engineers always on alert, looking for red flag.
This is not the case with cloud call center software. This technology being cloud-based can be accessed from anywhere, anytime. This gives an organization flexibility to employ customer service team from across the world to scale workforce in order to meet demands as and when they feel the need.
Functioning of Cloud Call Center Software
Whether you decide to set up cloud-based contact center platform in Philippines or Philadelphia, the technology and its deployment process remains the same. It is built around the main technologies of the automatic call distributor (ACD) and the interactive voice response commonly referred to as IVR system. However, this set-up is not limited to communicating with clients or customers just over voice calls. When an organization sets up cloud call center technology, it empowers them to integrate and sync a wide range of communication channels that include email, SMS, live chat, and social media.
Syncing of various communication platforms simply means that when a service executive sits on the system, and customer calls, the executive while attending the call can also view all the different actions taken by the customer so far. In a scenario, where a customer had called earlier and had spoken to a customer service agent, and he sent an email and was issued a ticket. Now if the same customer calls and a new agent answers the call, all the previous communication lands on the screen of this new executive and the conversation automatically becomes much more effective and precise. This in turn helps in better coordination in the customer service department. The outcome is quicker resolution of the customer's problem, and the working experience goes on a new higher level. A happy and a satisfied customer is good for company's growth.
The system also has built-in workforce optimization capabilities that helps the company or an organization to manage the staffing; also facilitates reporting tools through which one can identify the most potent opportunities for the growth, that have not been handled well. It allows the manager to draw the attention of the agent who was unable to handle the customer query in a satisfactory manner and to discuss an alternate way to effectively handle the same.
Shifting from Legacy to Modern Cloud – based Call Centers
When an organization decides to replace its traditional
legacy
call center technology with the
modern cloud-based software
, you can be sure of reducing costs, expanding service capacity, improving your service levels, and boost
customer satisfaction ratings dramatically. Not to forget this technology offers convenience of being easily accessible; can generate real time reports to offer the process manager a new perspective on its team's performance from remote location. Cloud call center software or unified communication
has a
far-reaching impact on a company's ability to meet customers' needs and exceed expectations, scale service capacity based on demand, and protect your business data as you walk on the path of growth.